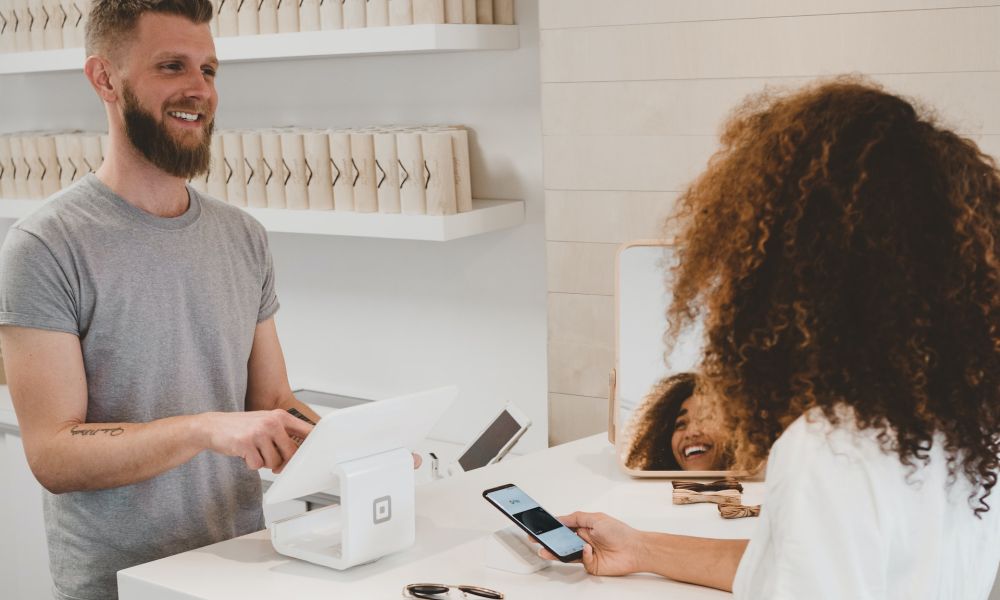 Business Is About Customers: 34 Service Tips on Keeping Them
By: Jim Fannin
There is no business until goods or services are sold. Customers and clients do the buying.
Procuring customers takes time and retaining them takes even more.
With repeat customers spending at least 50% more than new customers, they're worth keeping. Look at your prospects and customers as future and current partners. You help them make money and save money. Now…they don't mind letting you have a little money.
Show a person how to make money, and he doesn't mind letting you make money.
34 Customer Service & Retention Tips That WORK
If you're just starting a new business, then use all of the pertinent service tips below on your first customer and never look back. If you've been in business awhile, identify tips to be added and renew customer service with enthusiasm and an eye for long-term retention.
Here are 35 tips on keeping customers and clients happy, satisfied, and loyal.
1. Put your customers 1st.
This must be emblazoned in the minds of every person in your company. Nothing matters but what the customer thinks and feels about your product or service. Customers must be in every work conversation. They are the point of it all. Period.
2. Reduce customer risk.
Customers take risks when they leave one seller or vendor for another. They are constantly reviewing and comparing. No one wants to change. There's a risk factor. They may be giving up service for price or vice versa. Ask questions and swiftly ascertain if they're happy with the service you're providing. Fight daily for their loyalty.
3. Avoid closing.
We're "opening," not closing relationships. Remove this archaic mindset. You can get the sale without high pressure when you approach the customer with their short-term and long-term needs in mind. It's NOT about you!
4. Know achievements and accomplishments.
Recognize their accolades, tributes, and honors orally. Also, send them a handwritten (old school) note and or email memorializing their accomplishments.
5. Observe the "see-ables."
Observe all mementos, plaques, pictures and other "see-ables" in their office. These customer "see-ables" were placed there strategically so they can be seen. In the first 90-seconds in their office, visually take in all that's there. Comment on them.
6. Listen proactively.
Read their body language and hear their voice inflections and tonality. Body language speaks louder than their words. Eighty percent of what's said is nonverbal. Fully engage in what's said. Avoid interrupting. Never talk over them. The more they talk and the less you do, the better your results. Pay attention to what your customer is telling you without being distracted. Full engagement!
7. Honor customers by name.
Say their name with a smile and enthusiasm. If "Bob" the customer asks how you are, then reply, "I'm awesome Bob!" Be genuine and authentic in greeting them as a person and NOT as a $ on your tally sheet. Sprinkle their name within all conversations.
8. Acknowledge family.
Where and when feasible, ask about their family. Learn their names. Ask about their accomplishments. Know your customer.
9. Treat customers like friends.
Use a conversational tone at all times. Write emails that are simple, short, and to the point. Be blunt, but remain professional.
10. Surprise customers.
The unexpected positives from you will always be welcome.
11. Network customers.
Introduce your customers to others who might help them increase their income or decrease their expenses. This value-added service helps turn customers into long-time partners.
12. Thank customers.
"Thank you" is still powerful and can be unforgettable. The steakhouse chain of Eddie Merlot's sends a handwritten "Thank you" postcard from the server to their diners. Buy a pair of shoes from a Nordstrom's retail store and a handwritten "Thank you" arrives in the mail from your sales person. Pretty cool.
13. Break bread.
Spending breakfast, lunch or dinner with a customer can provide an insight into the mindset of your guest. Arrive early and have the restaurant manager take your credit card information in advance of the meal. Pay for the meal.
14. Use event marketing.
Spending time with a customer on the golf course captures five hours or more of quality, bonding time. Talk little business. Get to know them. Watching a sporting event or concert with a customer is another worthwhile activity when you'll spend valuable time bonding and know them better.
15. Know your customers.
Understand and acknowledge the importance of the key dates in their business and personal life.
End of each month for business
End of each quarter
End of their fiscal year
Birthday
Company anniversary
Marriage anniversary
Corporate milestones
Children's birthdays
16. Identify the best.
Treat all customers great, except go out of your way to give extra treatment to your top customers. Proactively treat your best customers with white glove care. Anticipate their needs. Spend time understanding each of their dreams, desires and timelines. These are your valued, long-term partners in success. They need to feel this is true.
17. Update customer data.
Customer profiles change and you need to keep all information current. This is simple, but someone needs to be responsible and held accountable for this procedure. This task is never-ending.
18. Keep customer profiles.
Organize customers according to their demands, specific requirements and needs. Ask great questions and memorialize their answers to serve them better. Adjust your service as the customer adjusts their needs.
19. Be fastidious.
Pay attention to detail. Make sure every document they see is grammatically correct. Be on time with all deliveries. Call in advance and let them know who is coming and when. Never be late. Double and triple check details.
20. Communicate frequently.
Positive, repetitious contact with your customers will place your name, brand, product or service in indelible ink on the inside of their mind. Repetition. Repetition. Repetition.
21. Reward loyalty.
Repeat customers are the backbone of any business. When they are satisfied, your product and or service become their own. "This is my steakhouse" or "This is my trainer" they think and feel. Reward this loyalty with timely gifts (birthday, holidays, etc.,), private events, special discounts and other perks for being your customer. Because of their loyalty and trust, they will spend more money with you and recommend you to everyone they know.
22. When's their renewal date?
Waiting to the last minute to contact customers about their renewal says you only care about the renewal and not the product or service provided. It also showcases your lack of organization.
23. Know dreams, wants, and needs.
When you are privileged to know the dreams, wants, and needs of your customer, they have allowed you to have this info. They let you in. They took a risk. Keep this knowledge sacred by doing everything to help them manifest these desires.
24. Avoid discussing competitors (yours or theirs).
There can be value in learning about competitors, but it's NOT worth the risk discussing it with customers. Stay focused on your customer's dreams, wants, needs and desires. Period.
25. Stay out of the past.
Go into the past only for evaluation and analysis. After your assessment, you can better serve your customer.
26. Stay engaged in moment.
Look customers in eye long enough to ascertain eye color within the first 90-seconds you greet them. Then have this mindset. "There's no place I'd rather be than where I am right now."
27. Intuition rules.
When your gut says call them, pick up the phone. Intuition delivers real time information that your conscious mind does not possess. Listen and boldly act.
28. Ask bold questions.
By being upfront and straightforward you will better garner their true feelings about your service or product.
29. Talk up, not down.
Speak highly about your company and co-workers or not at all. Never bash your company. Putting your company down in any way or form is taboo. It says you have no loyalty and you will eventually do the same to your customers.
30. Accept complaints.
This is an opportunity to overcome challenges and show them you care about their results. Do not interrupt when they are venting. Like a palm tree in a hurricane, absorb the wrath and speak when they are through. Look them in the eye. Acknowledge their feelings. Solve their challenge.
31. Be the go-to person.
If a customer challenge arises, then your name and face rapidly surface with immediate confidence that you will find a swift solution. Be on speed dial. Be known as the go-to person!
32. Think only positive thoughts.
Customers can pick up your vibes. That's good news and bad news. Send no labeling, negative thoughts. None.
33. Act like a partner.
Help them reach a place they've never been, enhance what they already have, and eliminate what they don't want.
34. Visualize their success.
Your customers are only as good as what they think about you and your service when you're not there. Send out the good vibe by picturing their success. See them saving money with your product or service. See them making money with what you bring to the table.
Every day write customer names on a sheet of paper and visualize what each wants. See your customers as successful. Period. This has been done daily for 16,425 days in a row (45 years) and counting. Not one day off. Even on a silent day, this exercise is completed.
Be in the Zone!
Jim Fannin is America's ZoneCoach®. He is a best selling author, platform speaker, peak performance and executive coach. His client list reads like a who's who list featuring celebrity actors, directors and entertainers, as well as 26 MLB All-Stars, 7 world's top 10 tennis players, scores of PGA stars, NBA All-Stars, NFL All-Pros and Olympic Gold Medalists. In addition, Jim has coached executives from 350 of the Fortune 500. Check out his new book, The Blueprint: A Proven Plan for Successful Living. Find Jim at www.jimfannin.com.
© copyright. All rights reserved. Jim Fannin Brands, Inc. 2018