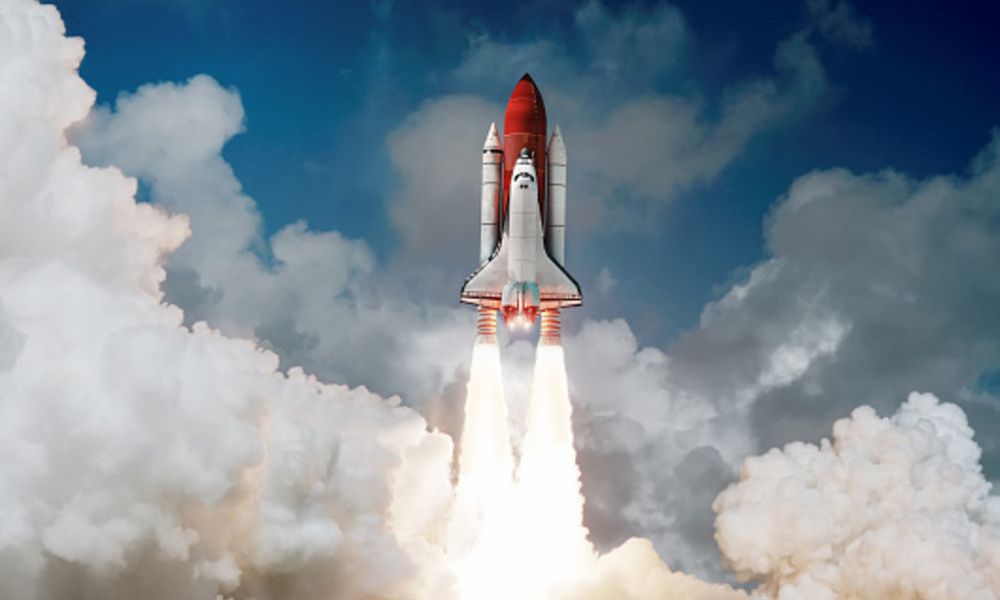 90-Seconds to Maximize Profit Event: Sign Up, Unleash Your Peak Performance
UPDATE: The 90-Seconds to Maximize Profit Event WILL BE RESCHEDULED. It is no longer occurring on 10/17/23, with the cancelation due to logistics; however, this highly sought-after event will be rescheduled as soon as possible, with an updated announcement to follow. If you have any questions about this change or need more info about Jim Fannin Brands or ZoneCoach Consulting, don't hesitate to contact our team.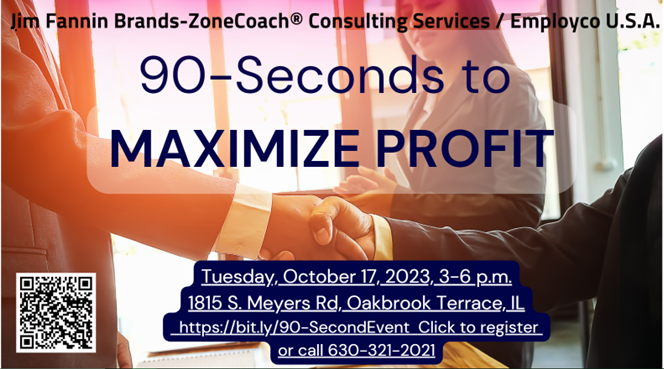 Every moment counts in the lightning-speed world of business. In fact, the difference between success and missed opportunities often comes down to a few key decisions, putting everything on the line and placing leaders under extreme pressure, where they have to balance high stakes and uncertainties.
Are you prepared to make better decisions when the stakes are sky-high?
Do you want to make better decisions in any situation, business or life?
If so, the "90-Seconds to Maximize Profit" Event, hosted by Jim Fannin Brands and ZoneCoach® Consulting Services presented by Employco USA, is the solution designed with you in mind.
Why More Leaders Are Registering for this Leadership Event
Missed opportunities, short-sighted choices, and stress-clouded vision are challenges confronting leaders in practically every organization, industry, and phase of business growth. These challenges can leave behind haunting "what-ifs," lost ground to competitors, and doubt in your mind that causes you to second-guess yourself going forward.
The "90-Seconds to Maximize Profit" Event is here to change all of that starting on Tuesday, October 17, 2023. Featuring Keynote Speakers Jim Fannin and Rob Wilson, this exclusive leadership and networking event will reveal what it takes to:
Recognize and seize new opportunities, so you can strike while the iron's hot, instead of looking back with regret at what could have been
Make prudent, smart, and well-reasoned decisions, even in the highest pressure situations when you may not have every last piece of information available
Unlocking greater potential by activating the right mindset
Activating and sustaining your peak performance in any circumstance
This transformative one-day program is condensed to deliver actionable insights while connecting you with proven strategies for improving your mental resilience and strategic thinking, so you can retain an unshakeable confidence that lets you truly operate at optimal performance in any business (or life) scenario.
This event is open to virtual and in-person attendees, with doors "open" at 3 p.m. Central Time in our international headquarters located in Oakbrook Terrace, Illinois.
Rob Wilson takes the stage to speak first at 3:15, followed by international platform speaker Jim Fannin speaking at 4:00 p.m. You can check out more details about the event here.
Space for this event is limited, and there's still time to reserve your spot! Register now, before it's too late!
Whether you attend as a virtual or in-person guest, you can:
Acquire strategies to fortify your mental resilience when faced with high-pressure scenarios
Obtain valuable perspectives on strategic thinking and practical approaches for profit optimization
Grasp the psychological factors that impact performance under intense pressure.
Delve into real-world case studies and success stories from accomplished business leaders.
Create a customized action plan for applying the knowledge and insights gained.
"90-Seconds to Maximize Profit" Event: About the Speakers
Speaker Jim Fannin, Coach of Champions, has helped the "best of the best" reach their pinnacle of success in life, business, and sports for 50 years. Now, he's ready to share his proven Blueprint with you in "90-Seconds to Maximize Profit."
Speaker Rob Wilson, President of Employco, USA, is a high-energy leader and an ambitious entrepreneur backed by more than 27 years of outstanding service in HR outsourcing.
Your next major decision or opportunity is waiting — make sure you're ready. Sign up for "90-Seconds to Maximize Profit" today.