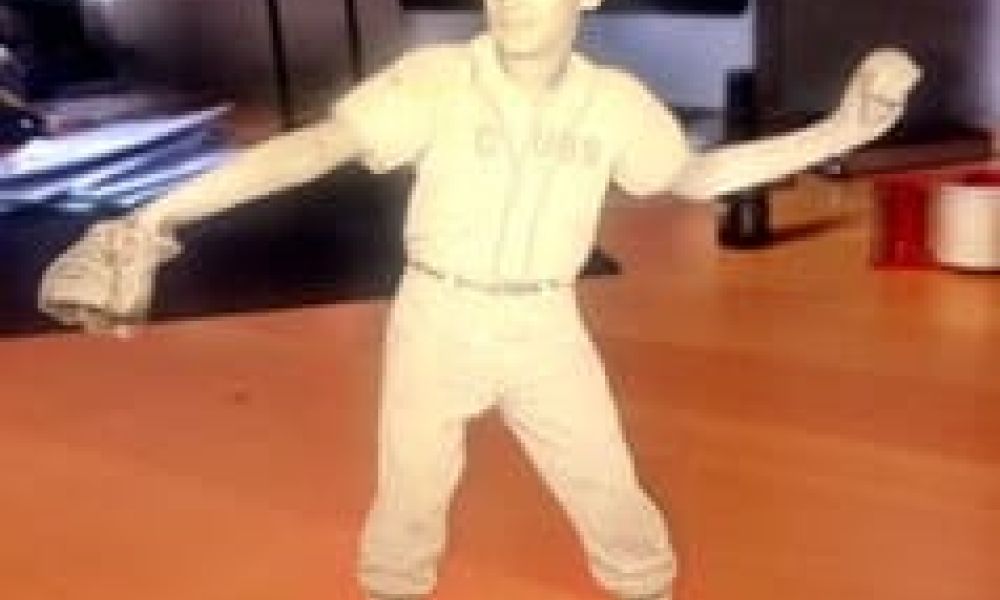 How to Be a Hall Of Famer
By: Jim Fannin
Yes. This is a 54-year old statue of me as an eleven year-old Little Leaguer with dreams of the National Baseball Hall of Fame. It was then I became aware of this shrine of 306 Hall of Fame members (68 members are still living). These men are the greatest baseball players ever. I've wanted to go to this museum in Cooperstown, New York for over 50 years. Finally, I'll visit the Hall for the first time as an honored guest of my client Frank Thomas. I'm feeling like a kid again.
What is greatness? How does one become a Hall of Fame member? Physical and mental talent is needed. That's for sure! However, there were thousands of men with exceptional talent that never graced this shrine of excellence. Thousands more with amazing prowess and skill will fail to be honored as an all-time great. Is there a formula for greatness?
I've learned that greatness is reaching a high daily standard over a long period of time. The differential between one's best and worst performances must be small. Any long period of inferiority will surely mar one's chances of being one of the all-time greats.
What is your standard of performance? This is a minimum requirement for a satisfactory performance. What would you call a standard day?
Most professions and all sports have metrics to measure performance. A salesperson can measure closing ratios and a golfer can measure greens in regulation to showcase how each measures up to the rest of the performers in their field. You know when your performances are poor and inferior. You know when you are in the Zone and your performance is over the top. It is your daily standard, however, that is the true measure of your greatness.
Attitude plays the most significant role in reaching your high daily standard. How you react when things don't go your way dictates reaching this minimum requirement for a solid performance. The mental balance of self-discipline, concentration, optimism, relaxation and enjoyment is crucial for reaching this performance state.
Too many times my clients try to reach their ultimate state of performance. This "try" factor gets in their way every time. Allowing for the Zone to arrive is the key. Reaching your minimum standard is paramount.
This past weekend professional golfer Rory McIlroy won the British Open. In his press conference he mentioned it was "the process" that helped him win his third major title. By having solid mental and physical routines before, during and after a performance one can more readily reach a daily standard. Do you have these routines in place in your life?
Frank Thomas had a series of routines that he enjoyed during his illustrious baseball career. Even before he entered the on-deck circle, prior to his next at bat, his routines were being checked off. These routines of mental and physical preparation kept him confident and always ready to reach a solid performance.
Inspect your life and see what routines are in place. Do you have morning routines before work? Do you have routines before any management, school, sales, sports or other performance? Do they help you get off to a solid start? Do you have routines of adjustment if something goes wrong? Do you have routines after you are finished? What routines do you have before you go to sleep?
Frank Thomas had great routines that he adjusted throughout his career. His self-awareness and visualization skills were both utilized to help him prepare, adjust and evaluate every performance. Why not you?
As I embark on my Cooperstown journey, the Hall of Fame members that I'll meet all have one thing in common. They reached a high daily standard over a long period of time. I look forward to saluting them and their achievements.
The six newest members of the National Baseball Hall of Fame will take their permanent place in Cooperstown on Sunday, July 27, highlighting four days of celebratory events and programs for baseball fans of all ages, as part of Hall of Fame Weekend this July 25-28.
The Induction Ceremony will feature six Baseball Writers' Association of America electees. They are Tom Glavine, Greg Maddux, Bobby Cox, Tony La Russa, Joe Torre and my client Frank Thomas. They will be enshrined at 1:30 p.m. EDT on Sunday, July 27 at the Clark Sports Center – with the Induction Ceremony shown live on MLB Network.
Thomas, who was named on 83.7 percent of all ballots cast, hit 521 home runs over 19 seasons in the big leagues, batting .301 while driving in 1,704 runs. Thomas won back-to-back American League Most Valuable Player Awards in 1993-94, led the AL in on-base percentage four times and captured the 1997 AL batting title. The five-time All-Star posted seven straight seasons (1991-97) with at least a .300 batting average, 100 RBI, 100 walks and 20 home runs, the longest such stretch in big league history. Thomas, named on 478 ballots in his first year on the ballot, is the first player elected to the Hall of Fame who played the majority of his games as a designated hitter. I was there every step of the way. As Frank makes his way to the podium to deliver his acceptance speech, I'll be the one in the audience with a tear in his eye. It seems surreal. Over 20 years ago I asked Frank Thomas the same question I've asked over 1500 professional athlete clients, "What do you want and why am I here?" Only three have said, "Hall of Fame." This Sunday, our journey will be complete and my childhood dream will be realized.
I leave for Cooperstown tomorrow. Dreams come true.
Word of the Week: Prowess (noun). skill or expertise in a particular activity or field. "She has great prowess as a salesperson."
Fanninism: "Greatness is reaching a high daily standard over a long period of time."
Zone Fact: Trying and definitely over-trying will repel the Zone as opposed to letting the Zone come to you.