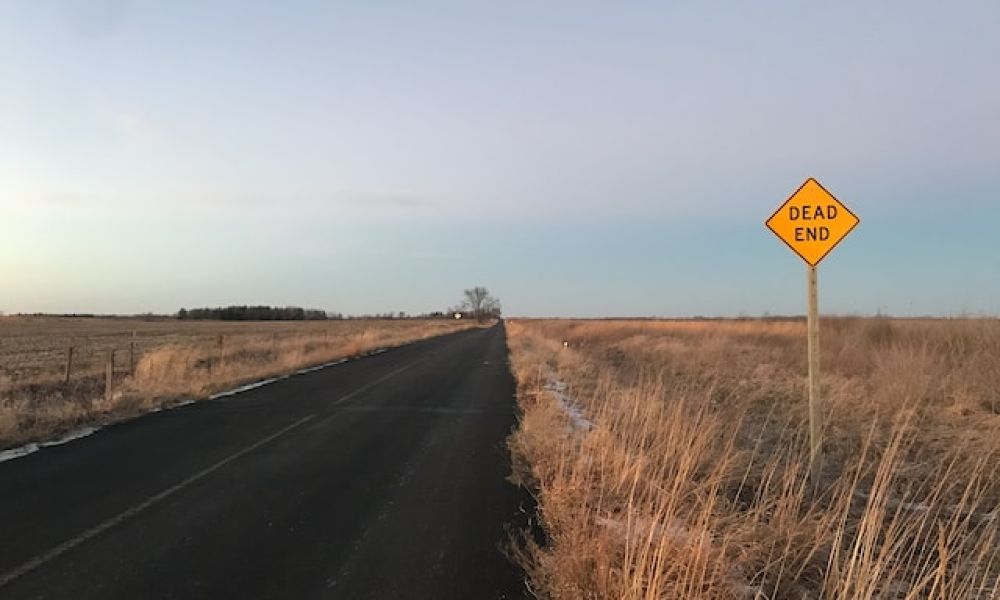 5 Tips to Prevent Mental Dead Ends
by Jim Fannin
Last week six people told me in different ways, "I'm at a dead end!" Each spoke of their job, relationship, parenting, family, health or life in general. This is a doom and gloom thought and self-fulfilling prophecy about one's plight. "I can't wait until 2017 is over," three people complained.
What's going on? Where's the positive, upbeat spirit? It's time to have a "reset" for your business, family, wellness, or significant other. Start your "reset" now.
"Hope" is ready when you are
Sometimes a dead end can be reached in a relationship. You've tried everything to no avail. The chemistry is not what it used to be. Thoughts have turned to greener pastures and the guilt of that is overwhelming. You feel at an impasse. "What am I to do?"
Businesses can have stagnant sales and diminishing profits. Analyzing every line item on the profit & loss statement and there is still no visible traction for a rebound. Despair, depression and anguish abound. And worry…it can envelope a psyche like a winter quilt. The dead end has been reached. Or has it?
Your child and you were inseparable. She or he couldn't wait to go shopping with you or play a game or a sport? Remember those days. Now the teenager in the upstairs room refuses to look you in the eye and helping you around the house is approached with eye-rolls and dread. Is this your kid? What happened to the bond? Where's the 2-way communication? Is grunting an answer really an answer? Have you dangled the old, "Wait until your 18?" or "When I was your age…" and found a glazed-over look like the shark in Jaws. Are you at a dead end with the child in the house?
Renewed confidence is a must. Seek the one or two positives from your current position. Sell you on the awesomeness of you. Pitch yourself on your talent that can meet any challenge and overcome any obstacle. Change your inner dialogue to "possibility" and "solutions." Do this! Write a 60-second commercial on the "awesomeness" of you. State your name like you are the "man" or "woman." Motivate the "inner you" by verbally spouting this infomercial to the universe. Try this self-talk soliloquy tonight and every night for the next 7-10 days. Sell you on you.
Untether your thoughts. Mentally walk away from your challenge. Get out of the hypothetical car, walk away from the illusionary dead end and leave the road you've been traveling. Stop repeating the story from a negative situation or circumstance. Take a psychological hiatus. Never fear. Your subconscious will continue to work on the challenge without your conscious thought. Within 24-36 hours optional solutions will reveal themselves. Trust this. In fact, sometimes the situation or circumstance works itself out without interference.
Balance is the key. Placing all your "happy eggs" in one basket or arena of your life can prove disastrous when things go south. Know that you are more than a businessperson, parent, sibling, or significant other. Write all your life arenas on a blank sheet of paper, keeping them segregated. Draw circles or squares to symbolize the various aspects of your life. Set a vision for each with only a few corresponding goals. Once this simple blueprint is created, then see where your thoughts have been? Share positive thoughts across all aspects of your life. Create positive reality shows within each life part with the script written with success in mind. Know you are more than one aspect of life.
Eliminate negativity. Which life arena houses the most negativity? Contain it and change it. Immunize yourself from the negative people in this part of your life. Delete the people that can easily be deleted, although this is not always easy. Change the negative people by inspiring and motivating them. Take the "higher road" by not allowing anyone to weigh you down. Refuse negativity. Chin up. Can you finish the year with this mindset?
Close the year on a positive note. Every year you will want to close the 12 months on your terms. Control what you can control these remaining days of the year. Close the year as a champion.
With a renewed spirit start hitting the ground running. No more dead ends. Have an open road to whatever you want in life. Envision a clear pathway to a better relationship. See your family with peace and harmony. Visualize more money and more fun acquiring it. Mentally embrace a healthy life. Picture your wellness at an all-time high. And foresee your teenager asking you to "hang out."
Take down the rearview mirror. Map your life's path avoiding all dead ends. Get started now. What are you waiting on?
Be in the Zone.
© Copyright. Jim Fannin Brands, Inc. All Rights Reserved. 2017.
Jim Fannin has coached more champions than any person on earth. Jim is a best selling author, platform speaker, peak performance and executive coach. His client list reads like a who's who list featuring celebrity actors, directors and entertainers, as well as 26 MLB All-Stars, 7 world's top 10 tennis players, scores of PGA stars, NBA All-Stars, NFL All-Pros and Olympic Gold Medalists. In addition, Jim has consulted with 350 of the Fortune 500. Find Jim at www.jimfannin.com.